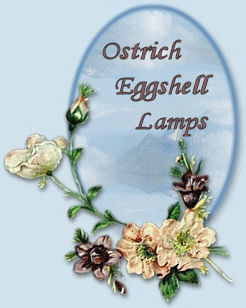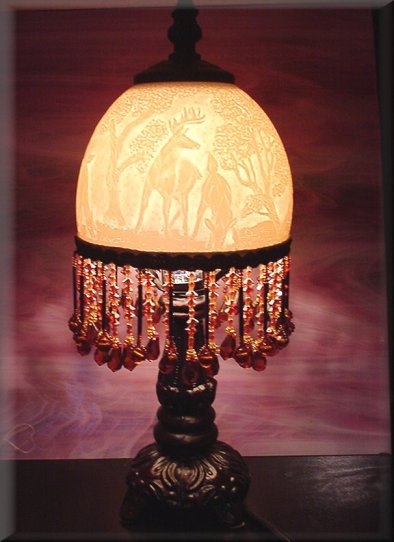 Photos or eggs on this site may not be copied/reproduced or otherwise used without my written permission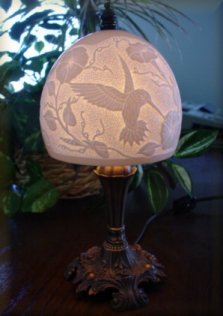 How Large is

an Ostrich Egg?

The lamps shown here are

approxi. 11" tall.

Ostrich eggs can

range in size and texture. For a comparison of egg

sizes Please check

Lamp designs can be special ordered. Contact me with

your design request.  Prices will vary with design complexity.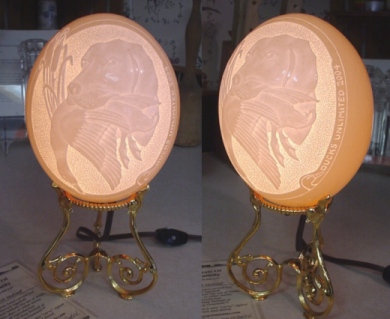 Created for Ducks Unlimited Auction 2004

                    Lab Retriever with Mallard Duck

This is hand polished to an incredible glassy porcelain like shine

            an Egg-Stasy Creations (tm) design original

Ostrich Egg Tealight Bowl

(Note: fringe is no longer included with this lamp)

The Ducks Unlimited logo and border will not be included for customer orders. If you would like a personalized message in the border, please contact me and we will work out details and any extra pricing for that.

NOTE: DUE TO MANUFACTURER AVAILABILITY AND DISCONTINUED ITEMS, LAMP BASES MAY NOT BE EXACTLY AS SHOWN.  YOUR CREATION WILL BE MADE WITH AN APPROPRIATE LAMP BASE. PICTURES ARE NORMALLY SENT TO THE CUSTOMER VIA EMAIL FOR THEIR REVIEW BEFORE SENDING THE FINISHED PRODUCT..

ALL SHIPPING IS BASED ON TOTAL WEIGHT AND CUSTOMER ZIPCODE

Unless the item says "immediately available", please allow up to two weeks for       completion of your creation.